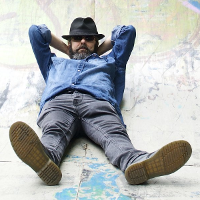 About
I'm Wayne Myers, a singer-songwriter from London. I've been recording and performing increasingly misnamed bluesy folk-rock under the name Fit and the Conniptions since December 2005.
Bookings / Contact
Email fit at conniptions dot org
Releases
Old Blue Witch, the fourth FatC album, was released on May 7th, 2017.
Previous album releases:
All releases are Creative Commons licensed and available to download from Bandcamp. You can also order CDs (via the US) from CDBaby.
If you're after a presskit, it's here.
Reviews
Old Blue Witch
Sleeping Beauty
Sweet Sister Starlight
Bless Your Heart / Four Song Demo sampler
Podcasts/Radio
Interviews: Music Manumit Podcast (July 2012), Tuxjam (May 2012), Hacker Public Radio (August 2011), Rathole Radio (May 2011).
Airplay: Losing track now, to be honest, but FatC tunes have been played on BBC Radio 6 Music, Radio New Zealand National, and Kanal Ratte FM in Germany, on podcasts such as sP's Sentric Music Podcast, Erk FM, The Justin Wayne Show, Is This Thing On and Rathole Radio, and on internet radio stations including totallyradio.com. A couple of tunes from Bless Your Heart were included on DJ Kotau's Linux Audio Best Of 2008 mix, available here.
If you have played Fit and the Conniptions on the radio or on a podcast, included it in a real or virtual mixtape, or written a review, good or bad, please let me know and I will add it to this page.
Presskit
There's now a presskit, if you're into that kind of thing, though once there wasn't.
It has been updated, but will soon need updating again.
Band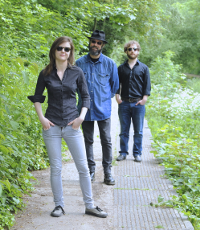 As well as Wayne on bass and vocals, the current line-up of the band is:
Holly and Duncan are brilliant. Additionally, Holly has the best possible name for a drummer in the entire history of drummers, and I include Slam Thunderhide in that. Slam Thunderhide wasn't his real name anyway.
In previous band incarnations I have been fortunate enough to have played / recorded with numerous excellent Conniptions, to wit:
Apologies if you should be on the list but are not, also please let me know if you are on the list and there is a website I should be linking to here.